The application of temporary and portable bridge systems is necessary for facilitating detours, temporary access and off-road work procedures in the safest, most efficient and effective manner possible.
Completing work tasks off the beaten path can be challenging, and so the purpose of our temporary and portable bridge systems is to increase productivity and ease of access for your workers, while also decreasing the potential for costly overruns on the worksite.
Determining Whether to Use a Temporary Bridge or a Permanent Bridge
Depending on the worksite, portable bridges may be an ideal and cost-effective solution. There are several variables that need to be factored in when deciding on the proper bridge for the task at hand.
These factors include:
Duration of use
Ground type and stability
Dimensions and weight capacity requirements
Environmental considerations
Based on these factors, GNB's engineering team can assess what type of bridge and what type of installation is required. GNB's engineers are available to fulfill this role on-site to ensure that the proper, safe, and effective solution is found.
The key difference that sets temporary bridges apart from permanent bridges is how they are installed.
Driving piles into the ground ensures a long-term, stable substructure for the bridge to be built upon. If your team will be using the bridge for a long duration, or if the ground is unstable, then this is likely to be the best course of action. Depending on the length of use, a permanent bridge may be needed, but if it is only for a short time period, then there are several temporary and cost-effective options.
Portable bridges are great for use on a worksite on a temporary basis. GNB's low-profile bridges are able to be deployed in a short amount of time, allowing them to be used and reused in various areas across a project site. Choosing the right support structure to ensure stability and the environment poses no risks, lock blocks may be used to secure the bridge for temporary deployment.
Forest Service Roads (FSRs) are a more common area where, with our engineering team, comprise a strategy with our client's team to determine how to deploy a new permanent bridge. Permanent bridges are often best used in these cases since the traffic and duration demand a long-term solution. Again, this is where GNB's engineering team can assess the area and advise stakeholders on how to handle the installation.
Temporary and portable bridges are flexible, as they can fit into even the most unforgiving environments (rugged terrain, dense forests, or small and closed off areas).
Therefore, construction, mining, or forestry employees may benefit from GNB's temporary/portable bridge systems as a rental. This allows teams to use the bridge in whatever capacity their team needs to move throughout and across a worksite.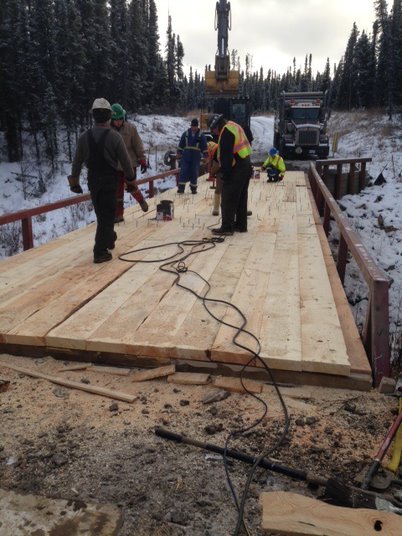 Temporary and Portable Bridge Systems—What are the Benefits?
Applying GNB's temporary/portable bridge systems to your project work site will benefit your project and all those who are involved with, or impacted by the project itself.
Temporary/portable bridge systems help counteract environmental and financial influences that may negatively impact project efficacy.
For example, without a temporary or portable bridge in place to connect the two sides of a riverbank during timber excavation, productivity would likely decrease.
Additional vehicles would be required, increasing transportation costs and driving time. More project time would need to be allocated to transporting workers to and from the worksite, possibly using a different route that could take hours longer to reach the project location.
This increased driving time would also increase gas emissions and the need for ongoing vehicle maintenance (equating to more project costs).
If these accrued costs put the project over budget, production may slow down until more funding is available. Or day to day operations could stop for an indefinite amount of time, thus putting the manager and employees in a stressful situation (especially when there is a project deadline or specific schedule the project manager must adhere to).
Alternatively, having temporary/portable bridge systems in place would speed up production and reduce transportation costs and pollution (aka carbon footprint).
If a temporary or portable bridge is not able to be used due to weak ground, GNB is available to assess and install a bridge that will ensure your team is able to move quickly and freely from point to point.
Quick to Setup Portable Bridges
Another ideal quality of these systems (that mainly pertains to the temporary bridge system) is that they're easy to erect and take down on-site. The quickness of this method will save you energy, time, and money.
Being able to deconstruct and redeploy a bridge in short time means that there are less barricades that delay project timelines. We recommend involving GNB early in the lifecycle of a new project, since our expert engineering teams are able to find the lowest cost and most effective solution in short order. This way, your teams can continue to perform their operation on the projected timeline with the tools they need to get the job done.
Permanent Bridge System vs. Temporary and Portable Bridge Systems
You may ask, "Why invest in a temporary or portable bridge when I could invest in a permanent one?" There are a few reasons why one of our portable or temporary bridges may be a better investment for your project.
Temporary and portable bridge systems are cost-effective. We provide permanent bridge installation services as well, though permanent bridges will incur more costs, time, and energy than temporary or portable ones.
An alternative to implementing permanent or portable bridge systems into worksites is creating road detours to help transport products and workers back and forth. However, temporary and portable bridge systems facilitate work processes just as well—if not better—than road detours, and for a fraction of the cost.
Our temporary and portable bridge systems include prefabricated, portable, and reusable bridging that is simple to move from point to point and secure to the ground. These qualities mitigate the bridge's impact on the eco-system it resides on and the environment in general.
What Happens to Temporary and Portable Bridge Systems Post-Project?
Once a project is completed, the bridge can be easily removed from the work site. A temporary or portable bridge system is quickly deconstructed, removed from the area and repurposed. Similarly, a portable bridge is simply removed from the area, but then inspected and given maintenance for future use.
At Great Northern Bridgeworks Ltd., we have a variety of temporary and portable bridge systems that are not only eco-friendly but also adhere to all government and industry regulations to grant you access to the location(s) you desire. We also provide all the necessary supporting equipment.